Aunt Eater Loves a Mystery
Written by Doug Cushman
Reviewed by Brian M. (age 8)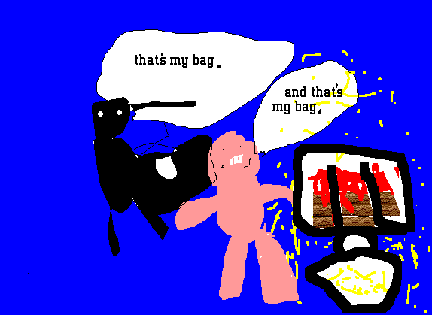 Aunt Eater Loves a Mystery is about four separate mysteries. The mysteries are: Aunt Eater Rides a Train, Aunt Eater Sees a Shadow, Aunt Eater Collects Her Mail and Aunt Eater Solves a Mystery.
My favorite story is Aunt Eater rides a train. It is about a time when the engineer gets Aunt Eater?s bag and Aunt Eater gets the engineer?s bag. The porter switched them by mistake. When the engineer got on the train, he gave his bag to the porter. Aunt Eater also gave her bag to the porter. Both bags looked the same. The porter got confused. Aunt Eater wanted her sweater from her bag, but all she found were tools. She told the conductor, "My bag is missing. Help me! Help me!" Read the book to find out what happens. Will Aunt Eater find her bag and get her sweater back?
The book reminds me of myself because when I lost my toys, I found them.
If you are interested in mysteries, you should go to a library near you and get Aunt Eater Loves a Mystery.