Love is a Handful of Honey
Written by Andreae Giles
Illustrated by Vanessa Cabban
Reviewed by Yamelsa B. (age 8)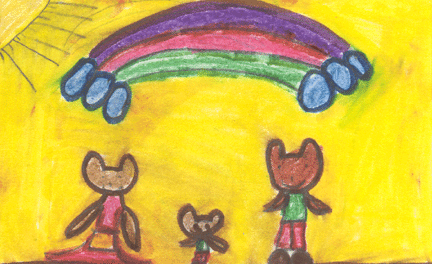 The book is about three bears that loved honey. The three bears live in a big house and in a big bed and every morning the little bear always jumps in the bed. I learned from the story that the bears and the animals could have their own house. The book teaches me that the animals could have houses too.
My favorite part was when the little bear was jumping in the bed. The book reminds me of one day when I saw a bear eating honey and then the bear saw me and I ran and then the bear came after me. It was one day in the woods. My mother told me this was my imagination but I don't think so.
A third grader or a fourth grader will read this book because it is beautiful and it's easy for a third grader or a fourth grader to read.