How Puppies Grow
Written by Millicent Ellis Selsam
Illustrated by Niel Johnson
Reviewed by Jenna W. (age 7)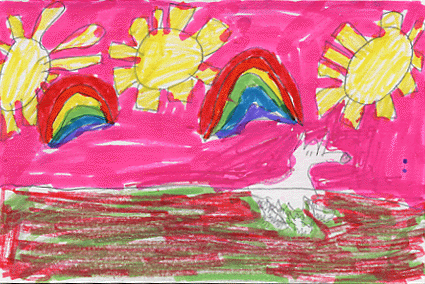 The book is about six little puppies that grow up with their mother and learn how to do things by themselves.
There is a big idea in this story. It's that when the puppies are 7 weeks old, and they try to nurse, the mother dog either growls or snaps at them. That's because they have to learn to do without her milk.
I think the book deserves a Good Book Award.
I like this book a lot, because it teaches how puppies do things. My favorite part was when the puppies crawled on top of the mommy dog, and it was because they were so cute when they did it.
The characters that I liked were the puppies. When they crawled on top of their mother dog, one of them was falling off and then one of the puppies was right next to their mother when the puppy was falling off, then that puppy caught it!
I like the illustrations. The illustrations have puppies nursing and sleeping and crawling on their mother dog.
It mad me wonder if Sylvea was going to have any more babies, and it reminds me of when I first got Sylvea.
I don't recommend this book, because I don't know anyone who had a dog that had babies.
The kind of reader or audience that would like this book would be the kind of reader or audience that had a dog with babies.