Little Kittens
Written by Paul Lemieux
Illustrated by Paul lemieux
Reviewed by Jenna W. (age 7)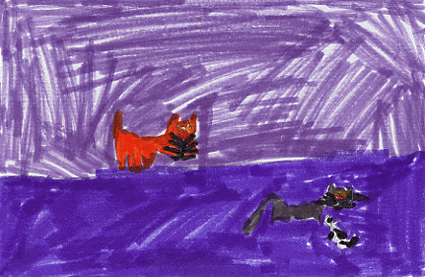 This story is about 2 little kittens that grow up with their mother. She had 4 girls and 2 boys. That's all I can tell you, you'll have to read the book to find out the rest.
There is a big idea in this story. It's that the baby kittens try to walk and a girl named Shara trys to help them. I think this book deserves a Good Book Award.
I liked this book a lot, because it's a really good book. My favorite part was when the kittens jumped when there was a loud noise, and it was because when they did it, they were so adorable.
This is like another story I have read. It's called HOW PUPPIES GROW. It isn't like any other book from the same author, because I always look at the author's name and I never saw the same author on a different book.
There are illustrations. I really liked them, too. The illustrations were cute and adorable. I felt really happy as I read the book. It made me wonder if that's how Sylvia's life was when she was born.
The story reminds me of when Sylvia had Fluffy. Sylvia is my cat. The kittens always try to climb on their mother, but the mother cat doesn't like it that much! She still lets her kittens do it though. She loves her kittens very much. Sometimes she lays on them. She had 4 girls.
I recommend this book to all the people that have a cat that had a kitten. The kind of reader or audience that would like this book would be people who had a cat that had kittens.