What You See Is What You Get
Written by Valjean McLenighan
Illustrated by Dev Appleyard
Reviewed by L.B. (age 7)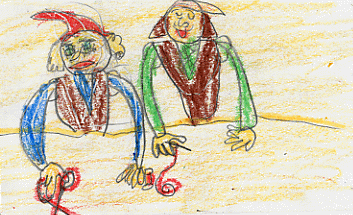 This book is about a man that is a king. The people call him "BIG MAN". A ball is coming up. The king wants new clothes and shoes so that he will be the best looking person there. His soldiers think he is a fool because he is always wanting something new. So, his workers go to work making the clothes. The workers decide to play a trick on the king. If you want to find out what happens you should read this book.
My favorite part of the story is when they are pretending to make clothes for the king. I also like the drawings of the soldiers running with the clothes to the king. I like the clothes because they are colorful.
If you are ten or under you should read this book. If you are a mother or a father, you shoud read this book to your child.