Charlie and the Chocolate Factory
Written by Roald Dahl
Illustrated by Quintin Blake
Reviewed by David L. (age 9)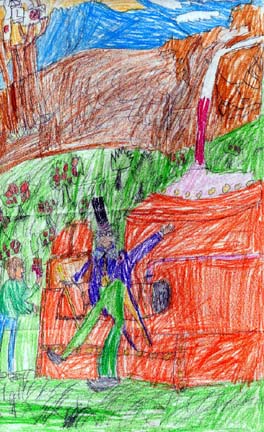 Charlie Bucket is a small boy with a poor family. There?s only one thing Charlie longs for and that is chocolate. The mysterious Mr. Willy Wonka, a legendary candy maker who makes the best candy all over the world, vanished years ago. Then suddenly a message came from Mr. Willy Wonka saying, "I have hidden golden tickets under chocolate bar rappers. The lucky children who find one of these golden tickets will have a full day tour of my factory. I myself will escort you around the factory." The 1st golden ticket was found by Augustus Gloop, the 2nd by Violet Beauregarde , the 3rd by Veruca Salt, the 4th by Mike Teavee, and the 5th by the hero Charlie Bucket ! He?s the hero because he wasn?t greedy and the lesson in the story is not to be greedy.
I like this book because it has so many hidden surprises and it?s fun to read. In my opinion, this book is not like any other Roald Dahl books, except Charlie and the Great Glass Elevator. One more opinion of mine is that Roald Dahl makes reading fun. My favorite part of the story is when Charlie enters the chocolate room. I like this part because I think it is the most exciting moment of the story.
Discover the surprises that await you--enter a world of pure imagination. You can do this by reading the book. I would give this book 8 and a half on a scale of 10 and recommend it to anyone, because it is one of the most creative stories I've ever read.