Sammy Sosa
Written by Richard J. Brenner
Reviewed by Matthew D. (age 10)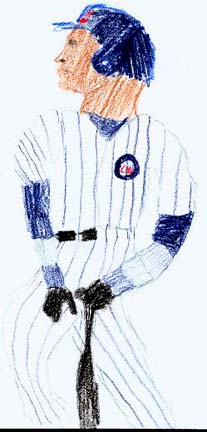 This book is about a boy who lives in San Pedro de Macoris. The boy name is Sammy Sosa . Sammy is a shoe shining boy. He likes to play baseball. San Pedro de Macoris is a poor place. For example, they use milk cartons as baseball gloves. He grows up to play in the major league. At first he was home sick. In this story, Sammy shows good sportsmanship. He is still a friend to Mark Maguire, even if he is on another team. With all the money Sammy has he gave some to San de Macoris.
My favorite part of the story is learning about where Sammy came from, because I never knew much about Samy's background or about his team. I have never read before about The Chicago Cubs or any players from that team and I found it very interesting. This book shows a lot of lessons about good sportsmanship. This book has taught me not to get mad if I lose a baseball game. This book is part of a series of sports books all by Matt Christopher. He is a sports writer who has also written about hockey, tennis, basketball, and many others. I love them all.
I think this book a wonderful read for those people who like to play baseball or enjoy watching baseball on tv. I still wonder if Sammy is going to win the home run record. I hope he does,? we?ll have to wait and see.