Bridge to Terabithia
Written by Katherine Paterson
Illustrated by Donna Diamond
Reviewed by Joao Pedro D A. (age 11)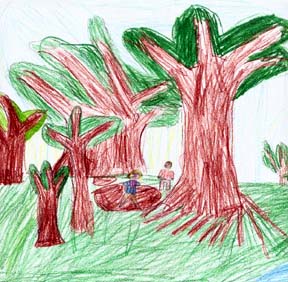 Bridge to Terabithia is about two kids. One of them is a boy called Jess Aarons. He wants to become the fastest runner in his fifth grade class. Jess has been practicing all summer. However, in the first day of school the odds were against him! There was a new student called Leslie Burke. In recess things just got worse! Leslie beat Jess and all the other boys in a running race. Imagine if you trained all summer for something and you fail on it. It was not a very good start for a friendship, but soon they become indivisible. Jess doesn?t care if Leslie dresses differently than all the other girls or that her family has a lot of money or doesn?t have a TV. Soon they build a magical imaginary place in the woods. They become even better friends, but one day a terrible tragedy occurs. Will Jess be able to get over this horrible tragedy? To find out read this breath-taking Newberry award winner book.
My favorite part was when they built the magical place, because it shows a lot of friendship between the two kids. Leslie reminds me of myself, because I like being in touch with nature. In my opinion, Katherine Paterson's writing makes it seem like the story is alive through her descriptive language and realistic situations.
I would recommend this book to anyone who likes dramatic endings with hope and faith. In my opinion, the morals of the story are that you can?t judge a person and the importance of friendship.