A Wrinkle in Time
Written by Madeline L'Engle
Illustrated by Cliff Nielson
Reviewed by Sarah S. (age 10)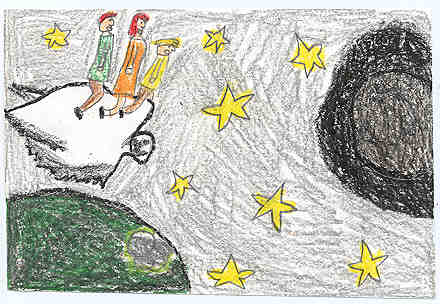 Wow! I just read A Wrinkle in Time! This book is about three kids, Meg Murry, Charles Wallace Murry, and Calvin O'Keefe. They travel into space so that they can rescue Meg and Charles Wallace's father, Mr. Murry. Mr. Murry is trapped by an evil thing called IT (Also the black thing that is surrounding the planet in my picture). The children have to resist IT and rescue their father!
Meg (age 14), Charles (age 6), and Calvin (age 15) get help from three women, Mrs. Whatsit, Mrs. Who, and Mrs. Which. But, Can they outwit IT in their heart-stopping adventure in space? Read the book and find out!
This was one of the best books that I have read! I liked it so much because it seemed like it could be non-fiction but was really fiction. My favorite part was when they rode on Mrs. Whatsit's back (Mrs. Whatsit is a lady, but can turn into the white thing in my picture).
I liked Charles because even though he was 6, he was a genius. In fact, he never spoke baby talk. By the time he was two, he spoke in perfect and complete sentences.
I recommend this book to anyone who likes fantasy, fiction, mystery, some scary parts, and adventure. If you like these kinds of books, then you should go and read it! Please read this book. It is worth all the time!