2095
Written by Jon Scieszka
Illustrated by Lane Smith
Reviewed by Thomas K. (age 10)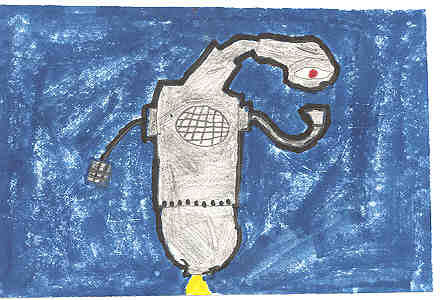 That was a great book!! I just finished reading The Time Warp Trio 2095. It has such an adventure in the book. Well, I will tell you what the story is about right now. Joe, Fred, and Sam are going on a school trip with their class to the Art Museum. They were getting so bored Joe had The Book with him and said lets go one hundred years in the future. Fred and Sam looked at him like he was crazy, but before they said, "No", he had already went to the page and typed in 2095. When they got there a Sell Bot was there and said, "What's your number?" They ran and ran until these other girls were after them to get out of this mess they have to find The Book to get out of the 2095 land and get back to 1995.
I liked the book because it funny and really hysterical. I thought the book was amazing. It had a lot of adventures on it. My favorite part was when the Sell Bot came and Joe gave it a number. Well, it turned out to be a never-ending number.
I recommend this book for people who are really interested in action and big Sell Bots. I recommend this book because it was very, very funny!