The Forgotten
Written by K.A. Applegate
Reviewed by Chelsea C. (age 10)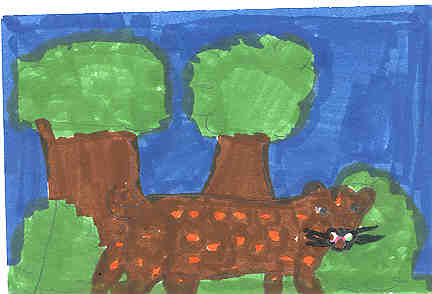 This fiction animorph book is about Jake. He is the leader "Prince" of their group. This group of theirs includes Cassie, Rachel, Draco, Jobies, Ax, and him. They are all animorphs. The animorphs fight against Yeeris, Hork Bajors, and Visser Three. Yeerks are slug-like things. They go inside your head and they control you. They are trying to take over the world. Hork Bajors are Controllers. They have Yeerks controlling them. They are an army for Visser Three. He is the head, the leader; he is an animorph.
In this story, Jake and his group, there are some Yeerks where the grocery store is located. So they went to check out infly-morph. They went to the grocery and found the assistant principal leading their group. He was with a bug fighter, a spacecraft. So they go in it and the Yeerks go in the blaze fighter. Hey go flying off in space. They find a dracon beam. That caused a sario rip. If you want to hear what's to come next, come on and read the book.
I liked the book because it was exciting, adventurous, daring and scary. I love scary books. If you like adventure, then this book's for you. I had a lot of fun reading about my favorite character, Cassie. She loves animals and she always helps her dad with veterinarian stuff. This book is part of a series, and I would like to read other books by A.K. Applegate.
I recommend this book because it was exciting. It really keeps you on your feet. I would recommend this book to people who like excitement.