The Kid Who Only Hit Homers
Written by Matt Christopher
Illustrated by Harvey Kidder
Reviewed by Max T. (age 10)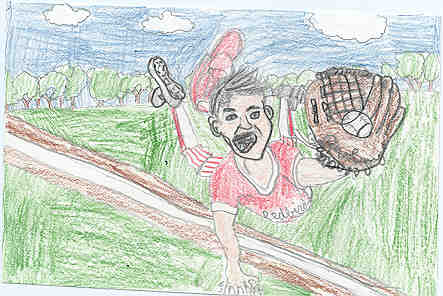 Sylvester Codmyer III didn't want to try out for the Redbirds baseball team because he thought he was horrible and he wouldn't make it. He wasn't that good, but he wanted with all his heart to be on that team. Today was the last day to tryout. After school Sylvester had nothing to do so he went to the tryouts to watch, where he met a man named George Barth. George Barth asked Sylvester why he wasn't out there and Sylvester said he wasn't good and didn't think he would make it. So George Barth waited until the tryouts were over then asked Sylvester if he would let him teach him be a better baseball player. Sylvester said yes. Sylvester got a lot better at baseball that afternoon. The coach almost didn't let him tryout but did. Sylvester made it. Read the book to find out what happens next.
I liked this book a lot. I liked it because it was interesting. I think this book is fun to read. My favorite part was when he hit his first homerun because it was exciting. Sylvester changed; he changed by getting better at baseball. That is my opinion about this book.
I recommend this book to people who like reading mysteries. I recommend this book to them because this book has a good mystery. I also recommend this book to people who like reading about sports.