Basher Five-Two
Written by Scott O'Grady
Reviewed by Scott H. (age 10)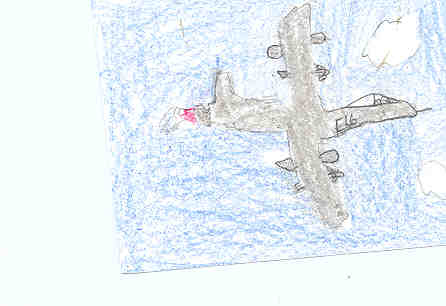 This book is about a pilot named Scott O'Grady. He is sent on mission to fly over a place called Bosnia. He and his friend Bob "Wilber" Wright fly in the "no fly zone" as the Commander said. Then suddenly a missile just misses Scott O'Grady's plane and he remembered that SAM missiles travel in Twos. He heard his alarm go off and well your going to have to read this book to find out what happens to Captain Scott O'Grady.
I liked this book because it was exiting to see what would happen next. I found Scott O'Grady interesting because he knew how to handle bad situations. My favorite part was when he got in the plane to fly his mission. When I found out that he got shot out of the sky my reaction was like whoa because I didn't think he would make it.
I recommend this book to kids that are interested in plane and survival facts. I recommend this book to kids that just like step by step books. This book might interest you if you like to eat leaves, ants, and grass.