Signs on the Way
Written by Marvin Buckley
Reviewed by LH (age 6)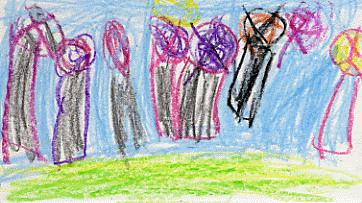 This is a story about signs. They show different signs that a Dad and girl see on the way to the hospital to see their new brother.
I do not like when the book repeats, " We see this sign on the way." The book keeps repeating this over and over. The pictures in this story were good because there were lots of color in them. My favorite part was when I saw the baby boy because I have two baby cousins and this reminded me of them. I like this book because it has a lot of color in it.
Older kids probably won't like this book because they know signs already.