Kittens
Written by Don L. Curry
Illustrated by Cynthia Jabar
Reviewed by AK (age 6)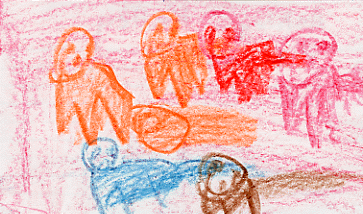 This story is about kittens. A boy is carrying a basket of kittens with one on his head. He asks if you can see his kittens. The most important thing that happens in this book is that the boy stands on his head. Then he says he can still see kittens upside down.
My favorite part was when he falls down with the kittens because he is funny when he does that. I like this book because it is funny. This book is special because the boy brings the kittens by a tree so they can play and climb. I do not like the pictures because I think they are ugly.
People who like kittens will like this book but people who do not like kittens should not read this book.