What Is Your Game? Basketball
Written by Jeri Burton and Tonya Cogan
Illustrated by Sherry Hermreck and Larry Bauer
Reviewed by MB (age 6)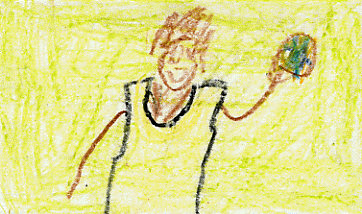 This story is about a reporter talking to a basketball player. The boy dribbles the ball, then shoots the ball and then passes it. The boy says he plays on a team.
The most important thing that happens is that the story shows you what to do in basketball. My favorite part was when the boy shoots the ball because I like shooting basketball with my Dad. I like this book because I like basketball. I do not like to pass the ball because that hurts my hands. The pictures in this story are good.
Little kids who are learning to play basketball should read this book. Big kids who already know how to play basketball do not need to read this book.