What Time Is It?
Written by Rozanne Lanczak Williams
Illustrated by Michael Jarrett
Reviewed by PG (age 6)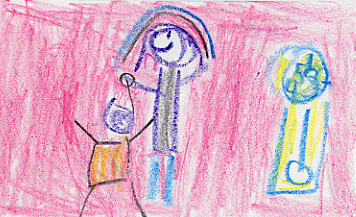 This story is about time and what people do during the day.
My favorite part was when they are making chocolate chip cookies because I like cookies. I like this book because it tells me about time. This book is special because it is cool and tells about something we all need to know. I do not like when it is time to clean up toys because I don't like cleaning up. The pictures in this story were good because they are pretty. I like to see all the colors.
I want kids who are learning to tell time to read this book especially my friend Ari.