What Grandmas Do Best
Written by Laura Numeroff
Illustrated by Lynn Munsinger
Reviewed by JL (age 5)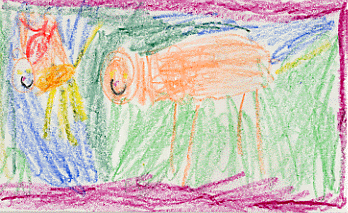 This is a story about love and care. The characters in the story are animals. They talk but that can not be true. I did not like this.
The characters are all nice in the story. The most important lesson in this story is that it tells all the things grandmas do best. My favorite part was when the mice are making funny finger painting pictures. I like this book because it has very beautiful pictures. This is a special book because it shows how nice grandmas are.
My grandma and all grandmas might like this book because it is about what they do. People who do not like animals might not like all the beautiful pictures of animals in this book.