Buttons, Buttons
Written by Rozanne Lanczak Williams
Illustrated by Keith Bergher
Reviewed by LT (age 6)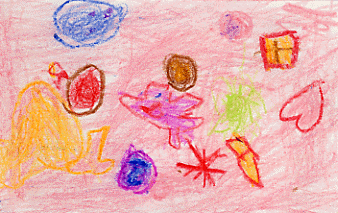 This story tells about buttons--shapes of buttons, color and size.
The pictures in this story were good because they show a really cool pink pig button. I like this book because it is funny like the part where it shows little buttons. This book is special because it shows big buttons and little buttons.
My favorite part is where the book shows pig buttons because I think pigs are funny and stinky. I do not like the part with lost buttons because once I lost a button and I did not get to wear my shirt!
I think my sister should read this book because it is a good book and I like it. I don't think my mom or dad should read this book because they don't read little kid books.