Horrible Harry In Room 2B
Written by Suzy Kline
Illustrated by Frank Remkiewicz
Reviewed by Paul C. (age 8), Esther P. (age 7)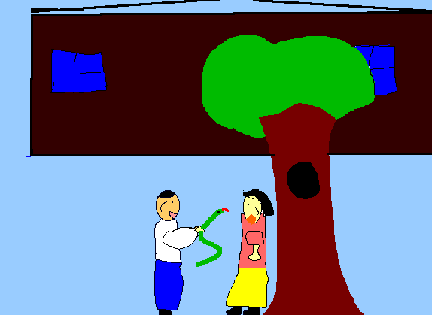 This book takes place in school. Harry is a horrible kid in Room 2B. He does horrible things to the people in his class especially to Song Lee. Also Harry does horrible things to the teachers. I think all the horrible things Harry does would make people want to read the book. It has silly things in it and it's funny because Harry spoils different foods. We like the book a lot because Harry does a lot of horrible things to his class by putting stub people on their desks and in their sweatshirts.
Harry reminds me (Paul) of my friend, Billy in first grade because he did horrible things too. It reminds me (Esther) of my cousin who does things to me.
We like the illustrations because the illustrator drew pictures of HArry doing horrible things. This book is like Junie B.Jones and the Stupid Smelly Bus because Junie B. does horrible things too. When we were reading this book it made us feel what it would be like to be Harry and do horrible things. It made us wonder if Harry wasn't so horrible after all.
We recommend this book to people who do horrible things and who want to do horrible things. We think Suzy Kline is a really good writer because you never know what is going to happen next. We like the way Frank Remkiewics illustrates this book using pen and ink.