Fudge-A-Mania
Written by Judy Blume
Reviewed by Lauren R. (age 9)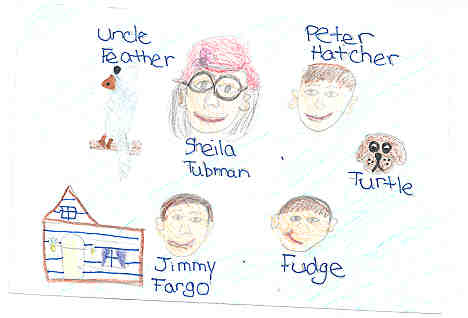 It's summer time, and the Tubmans have invited the Hatchers to a little summer cottage in Maine. What Peter Hatcher doesn't know is that he will have to spend three weeks living in the same house with his worst enemy, Sheila Tubman! The good news is that he gets to bring along his friend Jimmy Fargo, but with Peter's younger siblings Toostie, Fudge, and his pet bird Uncle Feather anything could go wrong. Many exciting and unexpected things happen in this book like Peter falls in love with the librarian, and swallows a fly. Tootsie does something that she might be famous for, and much more. At the end something funny and crazy happens that I know you will like, but to find out you will have to read the book.
This story reminds me of my life because a lot of things go wrong, and Fudge reminds me of my little brother who is always getting into trouble. This book is part of a series. It is similar to the other books because the characters have the same attitudes, and they are all funny. In this book the character that changed most was Peter. He changed by turning out to think Sheila wasn't so bad.
I recommend this book because of all the funny things that happen. The people I think would like this book would be people who like good, funny, and exciting books all in one. The part I think would interest the reader most would be the end. The characters in his book appear to me as funny. I liked this book, and I hope you will to!