Amber Brown Goes Forth
Written by Paula Danziger
Illustrated by Tony Ross
Reviewed by Allie N. (age 10)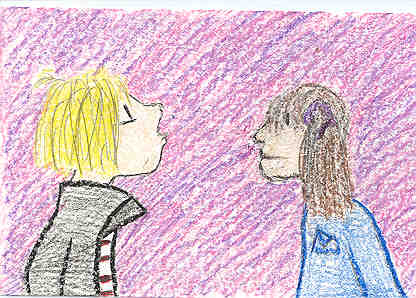 Amber Brown Goes Fourth is a book about a girl named Amber Brown who is going into the fourth grade. Justin Daniels, Amber's best friend, had to move away because Mr. Daniels' job. They have been going to school together for seven years.
It even gets worse. Amber's parents are divorced and her mom is dating a new guy named Max. On the first day of school, Amber sits at a desk that has an empty desk next to it. Suddenly, the principal walks in with a girl who has only gone to this school for one year and her name is Brandi. Since there is an open seat next to Amber, Brandi sits there.
After school at Elementary Extension, a place for kids to stay after school until their parents can pick them up, Amber started to giggle which started Brandi giggling. They began laughing so hard that they got four days of detention. Read the book to see if Brandi and Amber become best friends.
I can relate to Amber because when I was seven, my best friend moved away and I had the same feelings that Amber did when Justin moved. The book made me feel really lucky that my parents aren't divorced and I do not have this problem in my life. I think this is a really great book for kids who have problems and can read it to find some way to help them.
I recommend this book for every girl who likes to read; especially those who are really going through problems will find the book helpful.