The Kid Who Only Hit Homers
Written by Matt Christopher
Illustrated by Harvey Kidder
Reviewed by Daniel K. (age 10)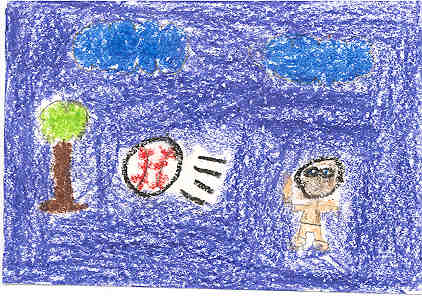 This is a story about a boy named Sylvester Coddmyer. He liked playing baseball with his friends. One day he was practicing with his friends and he wasn't hitting the ball well. He was very discouraged. A man named Mr. Baruth was watching the boys play and offered to help Sylvester Coddmeyer learn how to hit and field. Sylvester played for his school team called the Hopper Redbirds. He got a hit every time he was up at bat. The games they played in their baseball league were very exciting. Soon Sylvester became a hometown hero. The newspapers photographed and interviewed him. The mystery continues through out the story, how can he hit so many homers? Who is the mysterious George Baruth?
I really liked this book because there was so much action you couldn't put it down! The descriptions of each baseball game made you feel excited and nervous. It was definitely a unique story because Sylvester has a very special relationship with the mysterious Mr. Baruth. Matt Christopher is an author of many books about baseball, and other sports. These books are similar because they each have a good moral to the story, are fast-paced, and generally have a hero.
I would recommend to anyone to read this book if they like baseball, mystery and action. It was one of my favorite Matt Christopher stories. I could put myself in Sylvester's position many times in the book. It was easy to relate to how discouraged he was at the beginning, and how hard it would be to continue hitting homers once he learned how.