The Christmas Doll
Written by Elivera Woodruff
Reviewed by Emily S. (age 10)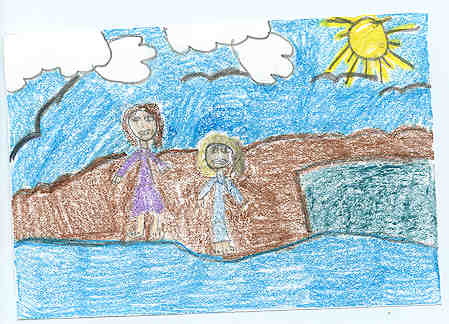 In the book The Christmas Doll, Lucy and Glory Wolcott are orphans. They are orphans at Grimstone. Lucy and Glory lost their parents from a very bad flu that came through their town. Living at Grimstone many girls got the same bad flu that their parents got and the started dying. Lucy and Glory got scared so the ran away from Grimstone. When Glory was a baby she had a doll named Morning Glory. When their parents died and they went to Grimstone the doll was taken away. One day when Lucy and Glory were walking by the river in the mud they found a doll. Lucy always said to Glory that some day you will find Morning Glory and when you find her your soul will tell you that it is she. When they found the doll in the mud Glory knew it was her Morning Glory. Lucy did not want to tell Glory that really soon we would have to sell her. Glory would not give up the doll. Lucy really wanted to sell the doll for food and rags to keep Lucy and Glory warm. If you want to find out if Lucy sells the doll you will have to check this book out at your school or public library.
My favorite part in the story is when Lucy gets a job at a place called Thimblebee's. It is a doll store. It reminds me of when my sister got her first job. The story reminds me of the times back in the war when the parents were taken away from their children or died it was a sad time for those kids. I thought the book was great, because it helped me understand that life is always not great.
I recommend this book to all people. In the book at sometimes it can be sad, happy, scared, or just a good time. When you are reading this book you won't want to put this book down until you finish the book. This book is great so don't blow it.