The Boxcar Children
Written by Gertrude Chandler Warner
Illustrated by Likate Deal
Reviewed by Meghan T. (age 9)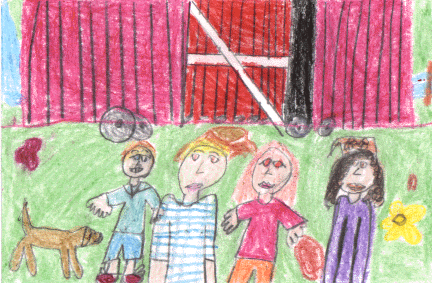 Would you like to get to know four orphan kids named Henry, Jessie, Violet, and Benny? If you would, you are up for an adventure! This story is about four kids called The Boxcar Children and the story of how they survive in a boxcar on their own without any adults. They are named The Boxcar Children because they live in a boxcar. Henry is the oldest and he works for Dr. Moore. Henry gets paid a dollar every time he works for Dr. Moore. He uses the money he makes to buy food. The children live in a boxcar because their parents and grandma died. Their grandpa is mean and the children refuse to live with him. They know he wouldn't treat them right. The grandpa's name is Mr. James Alden. He is the richest man in Silver City. Will The Boxcar Children ever live with their grandpa? Will the grandpa end up being nice or will he always be mean? Read this adventure to find out!
I think this book is very interesting because it is intriguing how the four children survived on their own with no adults. My favorite part was when Violet, Jessie, and Benny went exploring in the dump because I never thought you could use things from the dump to survive. I like the author's style because I think it is creative how Henry meets his grandpa, but doesn't know it. This book reminds me of four lost mice. They lived in a chess box in Ms. Mayer's attic in the book, Four Lost Mice because they lost their mom and dad.
I recommend this book to people who like mysteries. I also recommend this book to readers who like to read stories about kids and how they can survive without adults. I hope you take my advice and read this heartwarming story of survival and family.