Pony Pals: Pony in Trouble
Written by Jeanne Betancourt
Illustrated by Paul Bachem
Reviewed by Brianne M. (age 9) & Jennifer R. (age 9)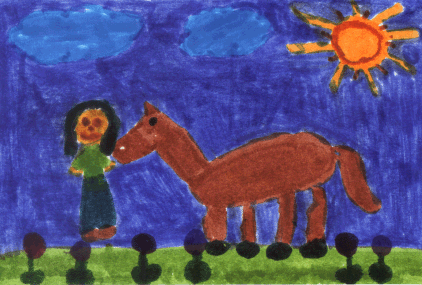 "Help! My Pony is in trouble!" Pam shouted. Have you ever had a pet in trouble? Pam has a pony named Lightning that got fed too many apples by a girl named Diane and is now very sick. Diane is a girl that is older than all the pony pals. She didn't want Lightning to win in the pony show, so she fed the pony bad apples. Luckily, Pam has friends that are going to help Lightning because they have ponies too. They are all called the pony pals because they are friends and they all have ponies. Their names are Anna, whose pony's name is Acorn and Lulu, whose pony's name is Snow White.
I (Jennifer) think the book is sad because Pam's pony is sick and if your pony was sick, you would care about it too and be upset. The part of the book when Pam's friends Anna and LuLu came to help reminded me that once, when I was sick, my friends made me get well cards. My favorite color is pink just like the color of the pony pal's ribbon in the pony show. I really wish I could have a pony like Lightning after reading this book. I (Brianne) liked this book because it reminded me of my favorite horse Sam that belonged to my friend Jeff. Sam died. I also have a book about horses and when I see the pictures in the book, I think of them.
We recommend this book to kids that want a pony. This book is good for kids in grades two through four and people who like to help their friends when they need it.