Journey to Ellis Island
Written by Carol Bierman
Illustrated by Laurie McGaw
Reviewed by Paul I. (age 9) & Abel L. (age 9)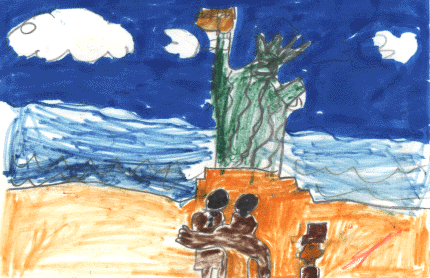 A kid named Yehuda and his family wanted to go to America from Russia because there was a war. While Yehuda was in Russia, a stray bullet tore off the tip of Yehuda's finger so a soldier wrapped Yehuda's finger with a bandage and Yehuda's mother made a sling with a long sleeved shirt. Yehuda had to go to the doctor immediately. But by the time he got there his finger got too infected that the doctor would have to cut the rest of Yeduda's finger before it would infect his whole hand! They started their journey to America. When they got there, the captain of the deck said they couldn't stay but Rachel, the mom, begged for them to let them stay. So the captain did. But they would have to get shipped to Ellis Island. When Yehuda got checked by the doctor they told him to run twice around the island to test to see if he could stay in America. You'll have to read the book to find out the end.
The lesson in this story is that you don't always get what you want, but sometimes you do.
Paul's favorite part is when Yehuda had to run twice around the island because it was a test to let him in to America. Abel's favorite part was when a stray bullet tore off the tip of Yehuda's finger because it got Abel's attention.
Paul likes the illustrations because the look like they are really back in time. Abel liked the illustrations because some were paintings and some were post cards.
The book reminded Paul of the horror of people going back to their country. The book reminded Abel of World War II because it was a war when Yehuda's finger got shot off.
We recommend the book to people who like non-fiction and journey books.