Star of Fear, Star of Hope
Written by Jo Hoestlandt
Illustrated by Johanna Kang
Reviewed by Daniel L. (age 9), Bryan M. (age 9)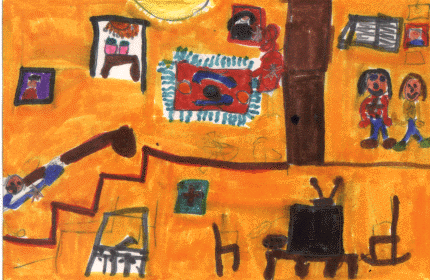 This story takes place in southern France when France is invaded by the German army during World War II. The German army kept Jewish children and children who were not Jewish from going to school together. Two girls named Helen and Lydia are best friends. Lydia's mother was sewing a Jewish star onto Lydia's jacket. Then Lydia's mother said, "All Jewish people need to wear a Jewish star." Helen never talked about her star until one day. It was July 15, 1942, Helen was very happy because the next day would be her birthday. So, Lydia went over Helen's house. While Helen and Lydia were telling zombie stories, they heard footsteps coming up the stairs. Then Helen peeked through the keyhole. She saw a hand coming up the railing. It was a lady saying, "Open up. It is Madame Eleven O'clock." Read this book to find out what happens next.
This book reminds us of Christmas Menorahs because the drawings look alike in both books. It is also like Christmas Menorahs because they both have a tragedy and the Jewish people's feelings are being hurt. We think this book has a lesson in it. The lesson is we are all the same in different ways. Another lesson is treat people the way you want to be treated. We think the drawings of the characters are interesting because they look like the characters in Christmas Menorahs. Daniel's favorite character is Helen because she tries to find out where Lydia is because she doesn't hear from her. Bryan's favorite character is Lydia because Lydia is Helen's best friend and she helped Helen be less afraid when they heard footsteps coming up the stairs.
We recommend this book to boys and girls or even adults because it is based on history. This story might interest readers because it teaches people to be tolerant and not intolerant. This book is interesting because it also teaches you to stick up for your friends.