Rainbow Fish and the Big Blue Whale
Written by Marcus Pfister
Reviewed by S.M. (age 7)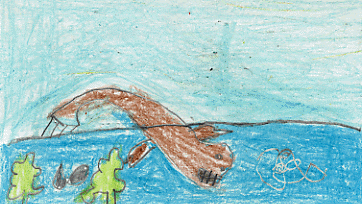 This book is about a whale and a fish. I like the part when the whale jumped up in the sky. The whale was looking at the fish because they were pretty. The fish were scared because they thought they were going to eat them. He just wanted to be friends.
I thought this book was great because the fish and the whale became friends. It reminds me of an old friend I had in class. I also like the book because of the colorful sea pictures.
I recommend this book to people that like whales and fish. If you want to learn how to be a friend then read this book. This would be a good book to read to young children.