Biscuit
Written by Alyssa Satin Capucilli
Illustrated by Pat Schories
Reviewed by L.V. (age 7)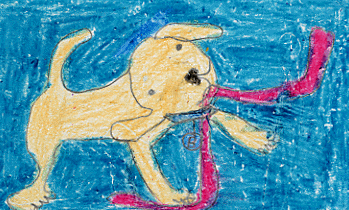 This book is about a little girl and her puppy. The girl said to the puppy, "Time for bed Biscuit," but the puppy wanted to do stuff. Biscuit wanted to play with his doll instead.
My favorite part of the story is when the puppy was trying to pull the blanket off the girl. I also like this story because it reminds me of a yellow puppy that I once had. The pictures are colorful and cute to look at.
This story would be a great bedtime story. I think people that have a puppy should read this book. After reading this story, you will feel happy!