The Baby Bunny
Written by Margaret Hillert
Illustrated by Robert Mashems
Reviewed by M.G. (age 6)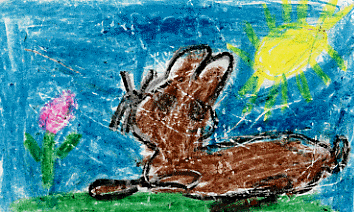 This Book is about the life of a little white bunny. The bunny eats a lot of grass. Then the bunny grows fast. Finally, the bunny is big.
My favorite part of the book is when the bunny was a baby. I also like the pictures of the bunny growing and eating. This book reminds of a time I was at the park and saw a baby bunny jumping in the grass.
Kindergarteners, first graders, and second grades would enjoy this book. This story would be fun to read in the spring because that is when you see lots of bunnies. If you like bunnies then read this book.