Sally Ann Thunder Ann Whirlwind Crockett
Written by Steven Kellogg
Illustrated by Steven Kellog
Reviewed by Rebekah P. (age 8) & Arielle S. (age 6)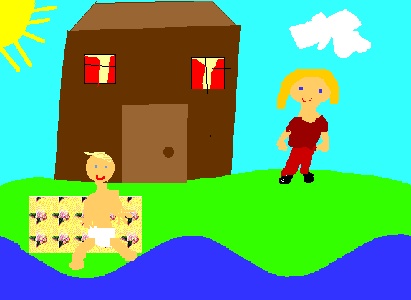 What if you could talk the second you were born? Well, this girl can and she can do much more like staying underwater for an hour without surfacing, outrun the state's fastest runners, and wrestle the strongest arm wrestlers! This wonderful girl's name was Sally Ann. Sally Ann decided on her eighth birthday she was ready to set out and see the world. Sally Ann loved her adventures except for adventures in winter. She just hated the cold. When winter finally came, Sally Ann sneaked into a cave not knowing that a ferocious bear lived inside! She went on lots more adventures. That was just one of them. The book is about a girl and how she grows up and faces her challenges.
I (Rebekah) sort of face the same challenges with other people. I (Arielle) face challenges with my dog as if she were the crocodile who attacked Sally Ann. What we liked about the book is that Sally Ann can do just about everything since the day she was born. While we read the book we wondered if Sally Ann was going to survive. What I (Arielle) think about the author is that he must have a lot going on in his mind to write a book like Sally Ann Thunder Ann Whirlwind Crockett! What I also like about this book is Sally Ann is very brave and an amazing girl! Our favorite picture shows the bear naked. It is funny. We've seen these kinds of illustrations in another book called "How Much Is A Million?" It is written by the same author and illustrator.
If you're in first or second grade and you think about your reading really hard, you will love this book.Go on adventures with Sally Ann and...BUY THIS BOOK!!!!!