Two of a Kind Diaries
Written by Nancy Butcher
Reviewed by Kathryn T. (age 10)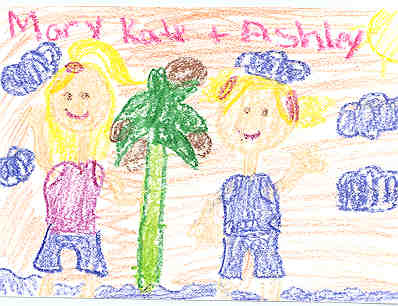 Come on "vote for me" says Ashley Burke. Mary Kate and Ashley are off again this time to Miami. Mary Kate and Ashley go to Miami because Harrington school for boys and Oaks school for girls are joining together for a competition. The competition includes volleyball, biking, and water skiing against other schools. Harrington and Oaks have to win all the competitions to go on and claim their prize for their team. If they win they will go on and have a party on the beach. The team then will get to see a new aquarium, swim with the dolphins and see all sorts of colorful fish. The most exciting thing of all would be for the team to go and see a baby manatee and the team would get to name it. The lesson is: if you want to achieve something you have to work together. If you want to find out who wins in the challenge read Two for the Road.
What I liked about this book was all the excitement going on at one time. I enjoyed it because I like sports and adventure, so it fit in with what I like to read. My favorite part was when Ashley went up against Dana Woletsky a very mean girl who wants to be the team captain, but fortunately Ashley wins. This story reminds me of when I play volleyball. Sometimes I feel pressure that I will mess up, but when my team wins I feel releaved that I didn't mess up in front of anybody and it makes me feel happy when we win a game.
I recommend this book to girls in fourth grade or higher. I recommend this book to girls because for one thing boys do not like Mary Kate and Ashley. I would say girls who like sports and warm places like Miami and Disney World would really love this book!