Scooby-Doo and the Carnival Caper
Written by James Gelsey
Reviewed by Matthew C. (age 10)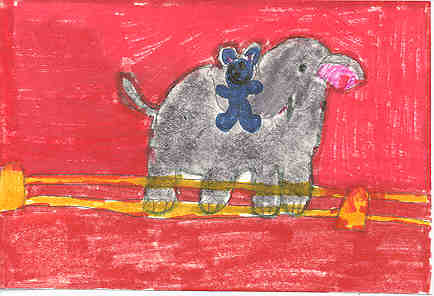 This book is about Scooby-Doo and his friends Shaggy, Velma, Daphne, and Fred. They are going to a carnival, but there is a Creeper scaring everyone away. So, Scooby-Doo and his gang are trying to save the carnival, so the owner, Pops, won't have to shut it down. Later, Scooby-Doo and Saggy are playing a game and win a big teddy bear. Then, when all the bottles fall the Creeper comes out of nowhere. But, they out run him. They hear an elephant, so they go see the elephant. Scooby-Doo ends up giving his big teddy bear to the elephant. If you want to find out more, you will have to read the book.
I liked this book because it is my favorite television show in the world. I also like it because it has funny pictures. My favorite characters are Scooby-Doo and Shaggy. I think the funniest part is when Scooby-Doo says "Raggy Rook at me I'm a hot dog." If you like funny books and mystery stories, this is the book for you.
I recommend this book to people that like mystery stories. A reader who likes funny mysteries would like this book. People who watch the television show would also like this book. These books are small and easy so any age can read it.