Robin Hood of Sherwood Forest
Written by Ann McGovern
Reviewed by Jacob G. (age 10)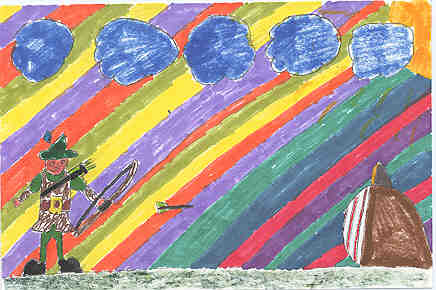 The book is about Robin Hood and his Merry Men. The story takes place in Sherwood Forest in the time of Kings and knights. The poor were being taxed unfairly. Robin Hood and his men would rob the rich and give the money back to the poor. Robin Hood takes great risks to do this. He is a robber, but he is kind to everyone and he is a hero. The author shows us that it is important to be brave and fight for what is right. Read the book to find out about Robin's exciting adventures and narrow escapes. Read how Robin and his men outsmart the Sheriff and escape with their lives and money for the poor.
The book Robin Hood of Sherwood Forest is one of my favorite books I've read. It is because it tells about my favorite legend. My favorite part is when the Sheriff has a contest to catch Robin Hood. Robin comes, wins, and goes back to Sherwood Forest. Little John interested me because he was 7 feet tall and could beat Robin in a fight.
I would recommend this book to people who like adventure stories because Robin Hood takes many risks. Maybe where it took place would interest readers. Or the characters, they're interesting. It took place in Sherwood, London, and the nearby town. Read Robin Hood of Sherwood Forest.
The End