Andy
Written by Tomie de Paola
Illustrated by Tommie de Paola
Reviewed by Andy M (age 8)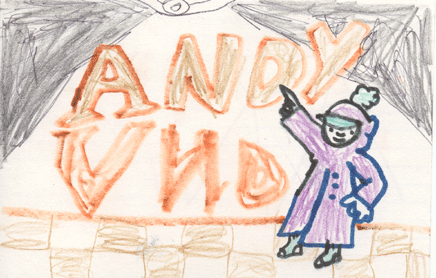 This story is about a little boy named Andy. He didn't have anything to do and in his wagon he had letters. He wanted to play with the big kids but they didn't let him play. They stared playing with his letters. The big kids spelled different words with his letters. Because they didn't let him play he took back his letters.
My favorite part is when the big kids were spelling words like Sandy. I like the pictures of the kids because they were funny dressing up in costumes and spelling words. I learned that you shouldn't let other people play with your toys unless you know them. The story reminds me of myself when a kid plays with my toy without asking me and I don't think that is nice.
People who like to write and read will like this book because it is fun and everyone should read it because it helps you write and read.