The Book of Bad Ideas
Written by Laura Huliska-Beith
Illustrated by Laura Huliska-Beith
Reviewed by Martin S (age 10)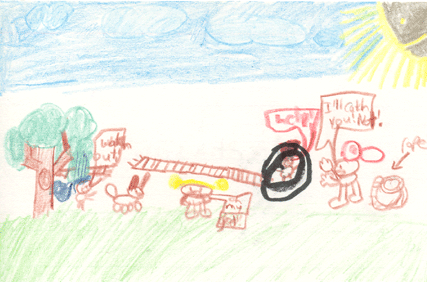 Do you like bad ideas or thinking about them? Well, if you like bad ideas then you should read The Book of Bad Ideas. The Book of Bad Ideas is a book that has bad ideas you really shouldn't try at home. If you try them you'll be soooorrrrryyyyy! If you want to learn more about it, I'll suggest a website but I don't know any. Maybe you should read the book.
My favorite idea is idea #11which is Jumping off the high dive with your new itsy bitsy bathing suit. I think this book belongs in a person's favorites list. I think the illustrations in this book are great. I think that they are great because sometimes it shows a person on the side and a bunch of words saying a funny comment. It's special because mostly the words aren't straight and the pictures are so funny! Every page is filled with funny pages! This book is like the book I reviewed last year Open Wide. It is like Open Wide because the pictures are sooooooo alike. This story reminds me that I should never ever volunteer to test the rope swing after my brother just put it up again.
I recommend this book to my friend Jonathan G because he thinks about too many bad ideas. I also recommend this book to my brother Andrew S because his plans for anything end up being a bad idea. I also recommend this book to Benjamin C because he is the person I know who thinks the most about bad ideas.