The Rooster Who Lost His Crow
Written by Wendy Cheyette Lewison
Illustrated by Thor Wickstrom
Reviewed by Schuyler W. (age 7), Jessica C. (age 7)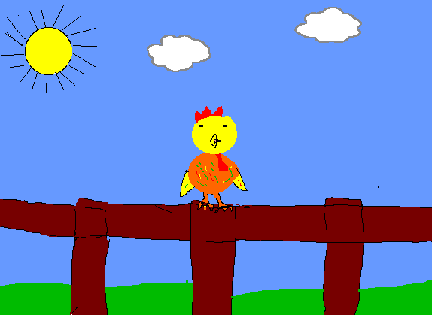 A rooster lost his crow and didn't know what to do. Rooster and the other farm animals looked all over for it . They looked in the grass, rooster?s cage, the shed, in rooster?s mouth, and in the pond, but they couldn?t find it. The rooster learned a lesson to never stop trying. If you want to find out if rooster finds his crow read the book.
We think the book is funny because in the middle of the story rooster doesn?t have his crow. This book is similar to another book called Cock-A-Doodle Dudley by Bill Peet. The illustrations are similar in both books. Both books are about roosters and have the same farm animals.
I (Schuyler) recommend this book to my grandparents and others that live on farms and have lots of roosters and chickens. I (Jessica) recommend the book to boys and girls that like farm animals.