A Wind in the Door
Written by Madeline L'Engle
Reviewed by Alex C. (age 9)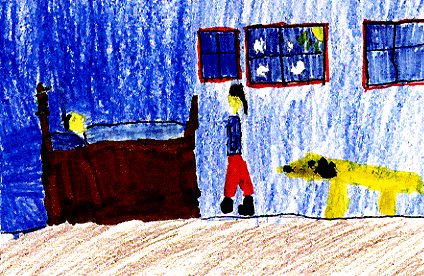 Charles Wallace is seriously ill. To save his life, his sister Meg must go on a galactic journey and pass three trials. Danger lurks everywhere, but with the help of her friends, Meg is determined to fight the evil that is slowly killing her brother. They're off on an exciting but terrifying journey. Can Meg save her six-year-old brother, or will he die? For a story that has adventure, science fiction and fantasy, I recommend reading A Wind in the Door. If you read this book, you'll also be on a wonderful journey to learn about space, biology, and just how much fun reading can be!
This book is a companion to A Wrinkle in Time. This series takes its characters into different worlds, different times, and different dimensions. In this adventure, Meg travels to another galaxy, and also to the micro world of her brother's cells "the mitochondria" in order to save him from dying. When Meg had to pass three ordeals to save Charles Wallace, it reminded me of the three trials Harry Potter had to complete in Harry Potter and the Goblet of Fire. Both Meg and Harry had to use their wits and courage to finish the tasks and achieve their goals. Meg's goal was to save her brother; Harry's goal was to win the cup. both stories also have evil forces that are trying to destroy the lives of a boy with special abilities. My favorite part is when Meg and her friends somehow get inside Charles Wallace's mitochondria through a mystical creature called a cherubim. Can you imagine being inside somebody else's body?!
I was amazed to learn about mitochondria and how important it is to our body. Did you know that mitochondria are tiny little organisms living in your cells? I didn't, until I read this book. I really recommend A Wind in the Door to all advanced readers who are interested in science, science fiction and fantasy - but make sure you have a dictionary next to you at all times!