The Five Chinese Brothers
Written by Claire Huchet Bishop
Illustrated by Kurt Wiese
Reviewed by Mladen O. (age 6) & Kevin S. (age 6)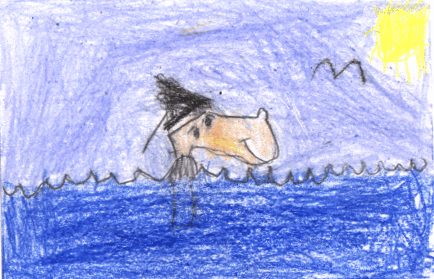 There are five brothers that looked the same. They each had something special that they can do. The first Chinese brother can suck up all the water in the sea. The second brother?s neck could not be cut off. The third Chinese brother cannot sink. His legs can stretch like he?s growing taller. The fourth one cannot get burned. The fifth one can hold his breath all night and day. The first Chinese brother got in trouble and the people in the town wanted to punish him. It wasn?t his fault. It was a boy?s fault because the boy was making faces and didn?t listen to the first Chinese brother. They tried to punish him by cutting his neck off, by drowning him, and burning him. None of the punishments worked because every time they tried a new punishment, a different brother came. They switched brothers every time they tried to kill him. The people in the town didn?t know they switched. The brothers can save themselves. What do you think happened at the end? The illustrator used black and yellow and white and some blue at the beginning.
We like this book because it?s interesting that the Chinese brothers can?t get hurt. We like that they all have special powers. Mladen likes the brothers. His favorite part was when the first Chinese brother was holding the seawater in his mouth. His head looks like a ball. Kevin likes the guy who cannot get his head chopped off. This book is an adventure because the brothers trick the people in the town. They?re lucky that they look alike.
We recommend this book to kindergartners and first graders. They might like to pretend they can stretch their legs like a character in the book. They might want to pretend they?re in a fire like another brother in the book. Kids will like all of the things that the five Chinese brothers can do.