Mother, Mother, I Want Another
Written by Maria Polushkin
Illustrated by Diane Dawson
Reviewed by Alex G. (age 7) & Bryanna B. (age 6)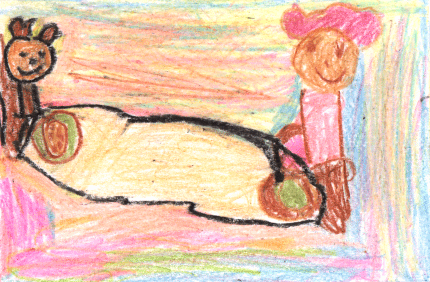 This story starts with Baby Mouse's mom tucking him into bed, helping him brush his teeth, and reading him a bed-time story. She gives Baby Mouse a kiss and says good night. The mouse wants another kiss. Mother Mouse thinks Baby Mouse wants another mother, but he really wants another kiss. The mother is confused, so she gets lots of different mothers to sing songs to Baby Mouse. Mrs. Frog went to get Mrs. Pig and Mrs. Mouse ran to get Mrs. Donkey. Every mom sang him a lullaby. Every mom ran to go get another mom. When Baby Mouse said, "Mother, Mother, I want another!" Mother Mouse thought that he wanted another mother, but he really wanted another kiss!
We love the character, Baby Mouse, because he is funny. We don't like that Mother Mouse got confused when she tucked him into bed, helped him brush his teeth and read a bedtime story to Baby Mouse. She should have known that Baby Mouse wanted another kiss and not another mother! We love the illustrations because they're colorful and Diane Dawson drew the characters so well. The characters look so real. We love Baby Mouse. He's a good character and the star of the story. Baby Mouse is the only one who knows what he really wants, but he doesn't say it. He waits for Mother Mouse to figure it out.
We recommend this book to first graders and second graders. We also think pre-K children and kindergartners will like it because it is funny. We love this book because many of the characters act like they don't know what Baby Mouse really wants. We think they might really know.