Miss Bindergarten Celebrates the 100th Day of Kindergarten
Written by Joseph Slate
Illustrated by Ashley Wolff
Reviewed by DeVaughn S. (age 6)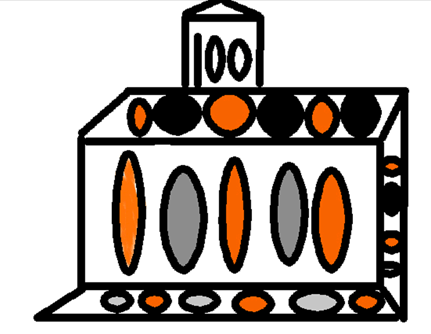 This book is about celebrating the 100th day of kindergarten. It shows how the teacher and students get ready to celebrate the 100th day of school. They made collections of 100 things. The story begins the day before the 100th day. That?s the 99th day of school. Each student has to decide what to bring to school. It is fun to see the collections that the kids brought to school. Someone brought 100 cars to school. Other collections are 100 hearts, 100 hats, 100 bows, 100 blocks, and 100 yo-yos. They all brought a 100 collection because it was the 100th day of school. In school, the class made a snake with 100 pieces. They counted by fives until they got to 100. The room had 100 toys in it.
This book is the best because it has perfect pictures and a fun story. It reminds me of the 100th day of school in our class. We all brought collections of 100 things just like the book. I like when Miss Bindergarten says, ?100 days of friends.? My favorite part was when the kids brought their collections to school. My favorite characters were Jessie Jaguar and Tommy Tiger. I love jaguars and tigers. This book has good pictures. The illustrations have lots of details and decorations.
I recommend this book to kindergartners because this book is about a kindergarten class. I think other kids would like it too. I?m in first grade and I like this book. If you read this book once, you?ll probably want to read it again!