If You Give a Mouse a Cookie
Written by Laura Numeroff
Illustrated by Felicia Bond
Reviewed by Gentiana B. (age 6) & Philip P. (age 6)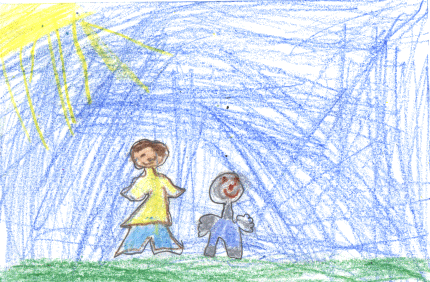 A boy gave a mouse a cookie and the mouse asked for a glass of milk. Then the mouse wanted a haircut. He kept asking for so many things. The mouse asked the boy for everything that he wanted. He asked to draw. The mouse needed a bed then the mouse asked for another cookie. The mouse wanted a cookie because he was hungry for a cookie. Every time he asked for something, he was reminded of something else that he wanted. The mouse made a big mess and he had to clean his mess up. The boy was tired because he had to do so many things for the mouse. It looks like the illustrator used colored pencils and markers to draw the pictures.
The mouse is a funny character. He keeps asking the boy for everything! Philip likes when the mouse draws a picture. The mouse used Philip's favorite color. Gentiana likes the book because the mouse tells the boy everything that he wanted and doesn't stop asking for things. This book is special because it starts and ends the same way. It's a circle book. It goes on and on and on.
We recommend this book to kids who like to smile and laugh. We think young children would like this book. Some grown-ups might like it too especially if they like to read to children. Our teacher likes to read it to us.