Charlie and the Chocolate Factory
Written by Roald Dahl
Illustrated by Quintin Blake
Reviewed by Kelsey M. (age 9)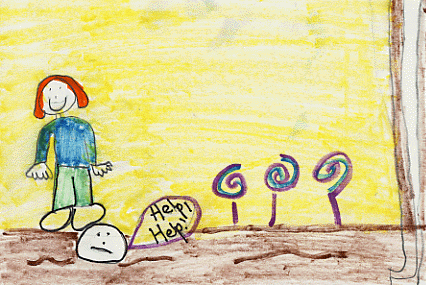 This is a book about a poor boy named Chairle Bucket who lived with his parents and four grandarents. Mr.Wonka gave out five golden tickets. The first ones to find the golden tickets were Augustus Gloop, then Veruca Salt, then Violet Beauregarde, then Mike TeeVee, then and finally Charlie Bucket. The ticket let them go into the chocolate factory.
My favorite part of the book was when the Oompa Loompas saw Augustus Gloop fall in the chocolate river. It was funny! I also liked when Violet got turned into a big blueberry. She got what she deserved. When Veruca got pushed into the garbage chute by the squirrels, I laughed. All the kids except Charlie were gross!
I recommend this book if you like to read about candy. It's a long book, so good readers should try it.