Holes
Written by Louis Sachar
Reviewed by Ashlen M. (age 10)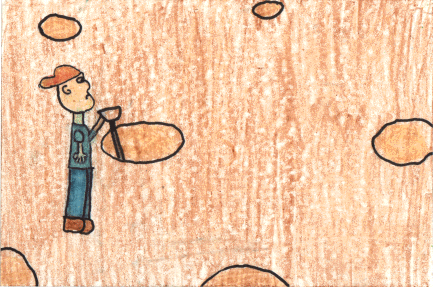 Wouldn't it be tiring if you had to dig a hole 5 feet wide 5 foot deep every day? Well Stanley and his friends did. Stanley is accused of stealing a pair of Clyde Livingston's shoes. So Stanley has to go to a prison camp, Camp Green Lake. At this camp Stanley meets some new guys named Zigzag, Barfbag, and Zero. Barfbag had to go to the hospital because he stepped on a yellow spotted lizard. There is no lake at Camp Green Lake but there are a lot of holes. Zero and Stanley became best buds. One day Zero runs away from camp and Stanley goes to find him. Does Stanley get to go home? Find out by reading Holes.
I liked this book because I thought it was interesting and different from other books. I thought it was different because some books you dislike or just don't get attached to. My favorite part of this book was when Zero runs away and Stanley goes to find him. This part of the story helped me figure out what was going on in the book.
I recommend this book because it's interesting and exciting. I recommend this book to kids who like adventure, fiction, or interesting books this book is for you. That's why you should read holes.