The Perilous Road
Written by William O. Steele
Reviewed by David G. (age 10)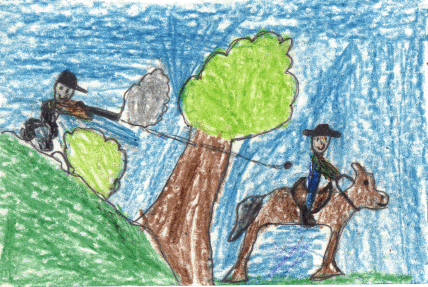 Imagine you're in the middle of a war and your brother is fighting on the other side! Well that's exactly what happens to Chris Brabson. When Chris Brabson's brother goes off to join the Yankees everyone starts making fun of him and starts calling him a Yankee lover. When this happens he gets mad and he starts killing every Yankee he sees! When he spots a Yankee wagon train he tells the Confederate Army to attack! He's pleased with his work until he remembers his brother is a Yankee wagon driver! Read this book to find out if he saves his brother or tries to attack him.
I liked this book because it showed me what it was like during the Civil War. This book reminded me of my dad because he loves to talk about the Civil War and what went on during it. When I read this book I felt I was in the book because of how the author worded it. Also it was a very exciting book. My favorite part of the book was when Chris saw the Yankee wagon train and told the Confederates. I liked that part because he was excited about killing Yankees.
I recommend this book because it's very exciting. People who like reading about wars would like this book.