My Side of the Mountain
Written by Jean Craighead George
Illustrated by Jean Craighead George
Reviewed by Spencer C. (age 9)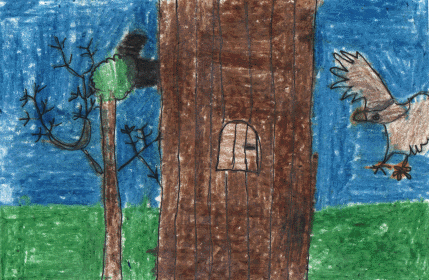 Have you ever run away from home? Sam Gribley lives in New York and runs away from home. He goes up into the Catskill Mountains. Sam lives in a brined out tree. Sam talks to Mrs. Strawberry. She talks about the Gribley's farm that's in the Catskill Mountains. He sets of for an adventure. When he's walking he sees an old house. It's the Gribley's farm! Sam finds a nest of baby eagles and takes one as a pet. He names it Frightful. He finds a man at his camp and they became friends, his name was Bando! A fire warden finds his camp and tells everyone in New York! Sam's family comes up for a visit. Read this book to find out what Sam's family wants.
I liked this book because it made me feel adventurous, fun, dangerous, hard living. Sam changed in this book because in the beginning he runaway. He was having trouble living. Towards the ending he was doing great. If you have read ON THE FAR SIDE OF THE MOUNTAIN and liked it, you will like this book because it is full of adventure. I liked this book because it's full of adventure.
I recommend this book because it's full of adventure. People who like reading stories about adventure and hard living would enjoy this book.