Island of the Blue Dolphins
Written by Scott O'Dell
Reviewed by Lauren C. (age 10)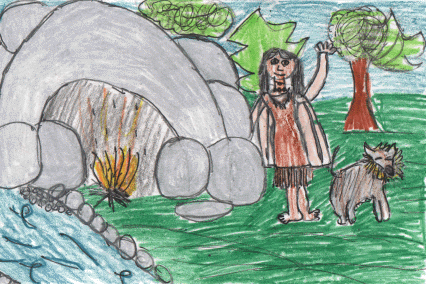 Have you ever felt lonely, or lost someone you loved? Karana lived with her family until her mother died and her father was killed by the Aleuts. Her sister, Ulape, sailed away with everyone else in her tribe. Karana and her brother, Ramo, were left behind. Ramo was killed by wild dogs. Karana had to be brave, make weapons, build shelters, and find food to survive. She captured the leader of the wild dogs and tamed him. She named him Rontu. They were friends until he died. She then captured his son and named him Rontu-Aru. Does Karana ever get off the island does she connect with her friends and family? Read this book to find out!
I really enjoyed this book! I think it is different from all of the other books I have read, because it shows you that almost anything is possible. I liked it when Karana tamed wild animals and built a house in a cave. This book has a sequel to it called, "Zia." Personally, I enjoyed Island of the Blue Dolphins better than Zia because I like when she has to live by herself, unlike Zia where she lives with people. Zia is Karana's niece. Island of the Blue Dolphins is my favorite book! I think you should read it!
I recommend this book because it is exciting to read. It is exciting because the author keeps introducing problems that need to be solved. I recommend this book to people who like Historical Fiction and Adventures.