Harry Potter and the Sorcerer's Stone
Written by J.K. Rowling
Illustrated by Mary Grandpre
Reviewed by Zach S. (age 9)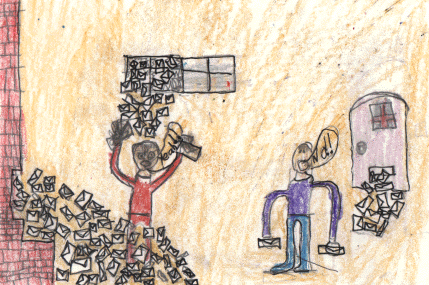 Have you ever thought you're perfectly normal? This is story about Harry Potter, a boy who thinks he's per perfectly normal but finds out he's a wizard! How does he find out he's wizard? Well when lots of letters come piling down from his chimney is when he finds out he's a wizard. He meets a giant named Hagrid. Hagrid takes him to Diagon Alley where he gets all his wizarding supplies. Finally he rides the Hogwarts Express to Hogwarts School of witchcraft and wizardry. There he meets Ron and Hermione and they become his new friends. At Hogwarts their days are filled with mystery. There are Mountain trolls and all sorts of things. Later on in the book Harry finds out that Professor Quirell has two faces. (One on the back and one on the front.) They duel an exciting duel. To find out who wins the duel read this book.
I really liked this book because it has magic. Something unique about this book is that every year they have a different Defense against the Dark Arts teacher. They all have the same characters and they all have magic. While I was reading this book I felt as if I was in the book because it has so many describing words.
I highly recommend this book because it has lots of magic and mystery. I think people who like magic and a little bit of humor would like this book.