Junie B. Jones is Captain Field Day
Written by Barbara Park
Illustrated by Denise Brunks
Reviewed by Lucy B. (age 10)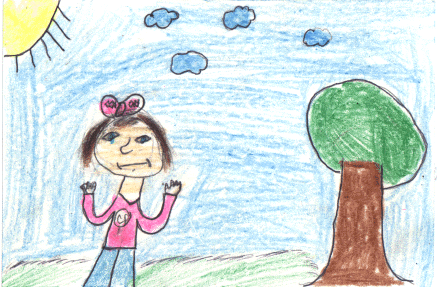 June B. Jones is a girl in room 9. She goes to kindergarten in the afternoon. Her parents go to work, and her grandpa takes her to school. When she got to school her teacher told her class to put their name on a peace of paper. Then put in the box. Junie B.'s teacher told her class she was going to pull a peace of a name out of the box. She said that Junie B. was going to be Captain Field Day on Friday. One it was Friday, Junie B.'s class had to compete with class 8. Room 8 was wining. Junie B.'s class was mad because room 8 had a very good kid in room 8. There was a kid named William in room 9 that everybody said he cries. The last competition was pulls. William did 10 pulls, so room 9 won.
My favorite part in this book is when Junie B. was wearing her Captain Field Day cap. I liked that part because she looks funny. This book is like other books because her other books talk about her and different stories. I like Junie B. because she is rely funny and weird. She dresses weird and has a funny personality. I like this book because it is so good! This book is very interesting and will make you laugh.
I recommend this book because it is a very good book to read, and it is a funny book. If you like humorous books, you should read Junie B. Jones is Captain Field Day.